ASDA is among the first major retailers to launch its Christmas ad this year which is centred around giving customers 'the Christmas they need at the prices they want'.
The "ASDA Price Christmas" campaign, created by AMV BBDO, sees the return of real-life ASDA superfan Sunny and his family­, who previously featured in the ASDA price re-launch and Halloween campaigns.
We follow Sunny and his family getting ready for Christmas with the great range available at ASDA and George. The ad features hero items from ASDA's festive offering, including the new Bruce the Brussel Sprout Cake, the Extra Special Vegan Bao Bun Selection and a classic turkey.
Sunny decorates the house with Christmas lights from ASDA in preparation for the big day, and the ad ends with the house spectacularly lit up to the excitement of his children, and the bemusement of his next-door neighbour Christine.
The ad is set tothe upbeat 1967 Christmas classic That's What Christmas Means to Me by Stevie Wonder.
The ad launched with a special one-minute film on November 2nd and the TV ad will also run in a 20 cut-down as well as additional 20 second product focussed spots. The campaign is further supported by social radio and print.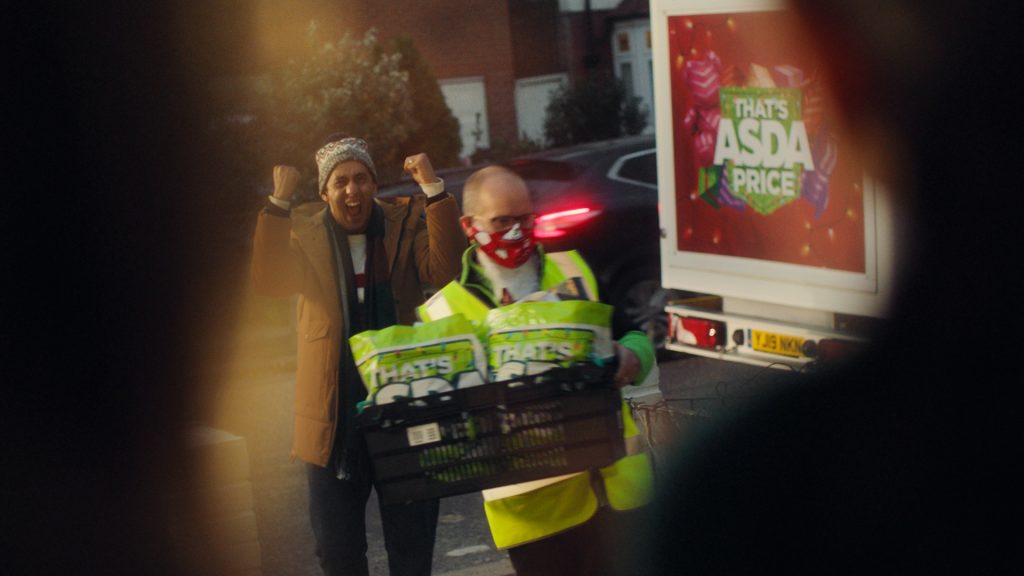 ASDA's Chief Customer Officer Anna-Maree Shaw said: "At ASDA, we know how important Christmas is for our customers, this year more than ever before. Christmas is going to be a little different for everyone, but through our 'ASDA Price Christmas' campaign, we want to reassure customers that everyone can have an extra special Christmas at the prices they want, which is why we're keeping prices magically low. With great quality products at great value across food, drink & home, customers can make the most of the festivities without having to compromise."
Eilidh Macaskill, Vice President Creative and Media at ASDA, adds: "We're so excited the festive season is finally here, and can't wait for our advert to hit TV screens. We loved working with Sunny and his family to bring our ASDA Price Christmas to life, showcasing the magic of Christmas at prices that all customers deserve."
CREDITS
Project:
ASDA Price Christmas
Client name & job title:
Anna-Maree Shaw, Chief Customer Officer, Eilidh Macaskill, VP Creative & Marketing, Leah Spears, Senior Director Broadcasting, Rebecca Holmes, Senior Manager Broadcasting & TV, Leanne Shields, Broadcast & TV Manager, Gina Booth Broadcast & TV Manager, Elliot Halloran, Broadcast Planner, Lydia Robbins, Broadcast Planner
Creative Agency:
AMV BBDO
Creative Director:
Alex Grieve
Agency Planner:
Sam Williams, Jack Swain
Agency Account Team:
Bobbie Gannon, Charlotte Oram Phoebe Swan, Rachel McEwen, Ethan Meade, Lucy D'Urso
Agency Producer:
Yvonne Chalkley, Caroline Jemerifo
Media Agency:
Spark Foundry WW
Production Company:
Hunky Dory
Director:
Jack Clough
Production Co. Producer:
Nick Papworth
Post-production Company:
Electric Theatre Collective
Business Affairs:
Maxine Thompson, Tony Price
Audio Post-production:
Wave
Source: AMV BBDO