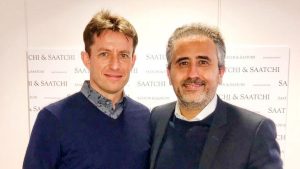 Seeds&Chips, The Global Food Innovation Summit founded by Marco Gualtieri, has appointed Saatchi & Saatchi to handle its advertising for their next event scheduled in Milan from 7th to 10th of May 2018.
Seeds&Chips, now in its fourth year, has become a point of reference within the food industry for food innovation. The yearly summit held in Milan, showcases the best of Italian and international advancement and explores themes, models and ideas that are changing the way food is produced, distributed, consumed and talked about. With the food production industry placing such great demands on our planet and ecosystem, the Seeds&Chips summit also aims to broaden the scope of discussion and develop solutions to become more sustainable.
The annual summit has gained worldwide recognition in recent years and has attracted high profile speakers such as the former President of the United States, Barack Obama, who spoke at the 2017 event, marking his first international engagement since leaving the White House.
Saatchi & Saatchi Italy will promote the event through an integrated campaign that will launch in February 2018.
"Seeds&Chips is a fantastic opportunity not only for our country, but for the future of the planet. Everything about the future of the food industry, from production to the application of technology, is of global importance. We are excited to partner with Seeds&Chips and to be promoting this fantastc event," said Simone Masé – CEO of Saatchi & Saatchi Italy.
Marco Gualtieri, Founder and Chairman of Seeds&Chips, added: "The fourth edition of Seeds&Chips will have an even greater visibility and international presence. It's fundamentally important to spread the message that food innovation and sustainability is a global priority. Its connection to climate change, population growth and health care means that events such as Seeds&Chips are pivotal. The Saatchi & Saatchi campaign will give us the opportunity to reach stakeholders and consumers, and in particular young people who are the protagonists of this great change taking place."
Source: Saatchi & Saatchi