Albert Bartlett, the UK's leading grower and packer of potatoes, is launching its autumn 2017 national television advertising campaign, starring its award-winning branded Rooster potatoes and Frozen Rooster Homestyle Chips.
The campaign, created by creative agency Holmes Hobbs Marcantonio (HHM) and directed by Joe Marcantonio comprises two thirty-second ads and two x 10 second cut-downs of them.
Albert Bartlett's portfolio encompasses both fresh and frozen products and there is a great deal of crossover in the purchasers of the two so it was logical to include fresh and frozen in the same campaign. This also emphasizes that its frozen products are made with all the same care and passion for quality as its fresh potatoes. There is one ad focusing on fresh and one focusing on frozen, but both ads have both fresh and frozen packs in the end frame.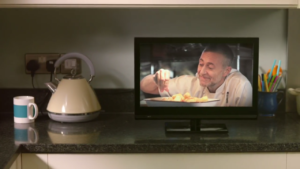 The fresh ad, Ireland, talks about the origins of the Rooster potato in Ireland, emphasizes the family nature of the business and gives a knowing glimpse of one of the company's previous adverts; we see a quick frame of Michelin starred chefs Michel Roux Jr and Andrew Fairlie.  The frozen ad, Water, talks about using rainwater and spring water to wash Albert Bartlett potatoes. The voiceovers are by Scottish actor Iain Glen, whom fans of Game of Thrones might recognise as Jorah Mormont. The filming took place at the Albert Bartlett factory in Airdrie, Sandy Bayne's farm at Auchterarder, a London studio and at Eyeries in County Cork.
Michael Jarvis Head of Marketing at Albert Bartlett explains, " This new approach plays on the emotions and emphasizes our family heritage, passion for quality and care for the environment. The mouth-watering product shots demonstrate the versatility of our fresh potatoes and the meticulous care we take over our frozen products."
The ads will be on air UK wide on TV, catch-up TV and on-line from 6th November through to 22ndDecember.
CREDITS:
Advertiser: Albert Bartlett UK
Ad agency: Holmes Hobbs Marcantonio
Production company: Woodall Productions
Director/editor:  Joe Marcantonio
Creative Director: Alfredo Marcantonio
Source: Albert Bartlett