A.G.Barr is launching a TV campaign to support its Rubicon Spring brand.
Created by BMB, the 30-second "Fruity Fling" film will run for six weeks, supported by digital and social media channels.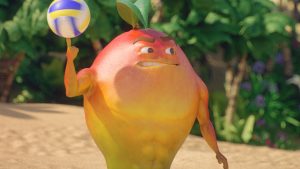 The agency is aiming to build on the success of its original 2016 "Fruity Fling" commercial for Rubicon Spring with a sequel that emphasises cheeky humour to capture the attention of 16-34 year-olds.
In 2016 Mr Water came to the shocking realisation that his wife had been having a series of fruity flings resulting in the perfect fusion of hydration and taste – Rubicon Spring. In the new ad, the Spring family are back on holiday and it's the Rubicon Spring kids' turn to realise the origins of their fruity appearance.
BMB's ad continues the fun animated style of the first commercial, bringing a flavour of classic juicy volleyball scenes to an apparently innocent family holiday setting, bringing the idea of a fruity fling to life.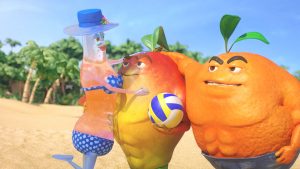 Featuring a soundtrack of Kid Creole & The Coconuts' "Annie I'm Not Your Daddy", the ad sees the Mrs Water brand character getting friendly with fruit characters Mr Mango and Mr Orange following a game of beach volleyball. It then dawns on the Rubicon kids that their father is probably not Mr Water.
The commercial brings to life Rubicon Spring's tasty mix of spring water and fruit juice, in four different flavours.
The campaign partners with The Sun Online to create a series of tabloid parody programmatic banner ads that document the goings on between Mr Mango, Mr Orange, and Mrs Water. This parody will also stretch onto The Sun's Snapchat channel in the form of a 24-hour takeover from Rubicon Spring.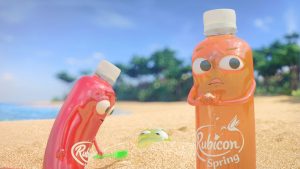 Adrian Troy, Marketing Director of A. G. Barr said: " Rubicon Spring is a great tasting, low calorie blend of fruit and sparkling spring water. We wanted to bring a real sense of fun and humour to what can be quite a worthy and serious category. Our ad certainly does that and I hope our viewers have as much fun watching it as we have making it."
Matt & Si, Creative Directors at BMB said: "It's been great to work on another fruity instalment and amazing to have a client like A. G. Barr who didn't lose their bottle. After all, it takes two to mango."
Source: BMB