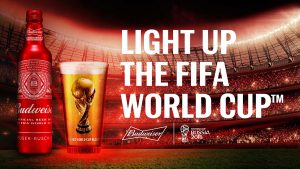 Budweiser is the brand that won the social media World Cup, according to data from MediaCom North.
With the tournament over after France were victorious, it was the famous beer brand's #ManoftheMatch content that saw it score with fans on social media.
MediaCom North tracked engagement and sentiment on Twitter throughout the World Cup, ranking brands according to mentions and sentiment.
Budweiser clocked-up over 55,000 total mentions on Twitter, ahead of second-placed brand IKEA (35,000 mentions), which became the runner-up in the social media stakes when a 'fab mob' descended on one of its London stores after England's quarterfinal win over Sweden.
Amazon, adidas and Nike made up the top five brands for social media engagement during the four-week World Cup.
Paul Cooper, Group Managing Director at MediaCom North, commented: "Budweiser connected with fans as it tapped into a key moment of every World Cup match – the man of the match. No matter which team was playing or won, or what the score was, there's always social media chatter among fans about the players and, more importantly, positive conversations about the stand-out players of each game. Tournaments are made for players to shine and for fans to praise and acknowledge the skills of their sporting heroes. Budweiser leveraged this through its #ManoftheMatch tweets, enabled it to drive a consistent volume of brand mentions among a wide fan base."
A round of applause for all #ManoftheMatch winners from this #WorldCup! Your amazing performances definitely helped #LightUpTheWorldCup! pic.twitter.com/efnuF2PomL

— Budweiser (@Budweiser) July 16, 2018
Part of its 'Light Up The Fifa World Cup' – which Budweiser claims to be its biggest ever World Cup campaign – the brand's #ManoftheMatch content featured interviews with players shared on Twitter. As well as its own campaign hashtag, the video content enabled the brand to feature other high-volume hashtags in each tweet including #WorldCup and specific match hashtags according to each of the two teams playing.
Paul Cooper added: "#ManoftheMatch really shows that if you get the content right and hit an audience sweet spot, your brand can quickly become part of wider audience conversations. The end result is increased brand mentions that audiences engage with."
What a match! Congratulations @england on their win this afternoon. Head in store tomorrow to get £1 fish and chips to celebrate! https://t.co/4pCsMCi9py pic.twitter.com/qNw3wMOrzz

— IKEA UK (@IKEAUK) July 7, 2018
Second-placed IKEA generated around 35,000 mentions, with a huge spike on Twitter after a 'fab mob' of England fans descended on its Westfield shopping centre store in Stratford, London. After fans jumped on beds and climbed on furniture in the store, the brand decided to embrace rather than chastise the celebratory mood of the England fans on social media.
Amazon ranked in third place with just under 14,000 mentions, driven by rewarding fans with vouchers and prizes for World Cup mega bundles of footballing merchandise. Sportswear brands adidas and Nike completed the top five ranking brands in the social media World Cup with over 11,000 (adidas) and over 7,500 mentions (Nike) respectively.
The midfield.
Create there and unlock the game.#HereToCreate pic.twitter.com/2zYRgpBQdA

— adidas Football (@adidasfootball) July 10, 2018
Paul Cooper concludes: "One of the real stand-out points from our analysis is the overwhelmingly positive sentiment and engagement generated. There was a trepidation ahead of this World Cup for a whole host of different reasons, with many fearing it wouldn't be that successful in terms of positive messaging and brand association. This really hasn't been the case, with brands effectively leveraging the event to connect with consumers in a range of innovative ways."
Source: MediaCom North