Iris has launched the first campaign for Pizza Hut Delivery since being appointed as the brand's lead strategic and creative agency in 2018.
Pizza Hut is a much-loved pizza brand in the UK but, because of the brand's historic association with restaurants, it is less well known that Pizza Hut delivers. Iris have joined Pizza Hut Delivery on their brand transformation – helping them to elevate their brand, their pizzas, their great customer experience – and let everyone know that Pizza Hut delivers.
'Now that's delivering', is a new brand platform that positions Pizza Hut as a benchmark in delivery, underpinned by the choice and flexibility to enjoy delicious restaurant quality pizza delivered to your home, its taste credentials, its Hut Rewards loyalty scheme, favourites from £5 value proposition and its Thirty Minute Speed Guarantee.
The campaign heroes these five key messages whilst also taking the fight to the competition – Domino's. 'Now that's delivering' playfully highlights that Pizza Hut can deliver in many ways that Domino's can't. 20 second spots have been created for each message – and all five have been combined in one cheeky and challenging hero film.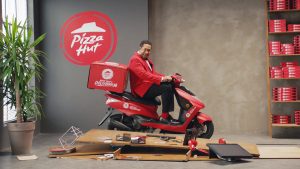 Ian Bradbury, Managing Partner, Iris, said: "This is just the beginning of our journey with Pizza Hut Delivery and it's a fantastic opportunity to reinvigorate such an iconic brand."
Beverley D'Cruz, Sales and Marketing Director at Pizza Hut Europe and UK commented: "Pizza Hut Delivery is on a mission to be the easiest, fastest and tastiest place for pizza. We've been successful in taking on the competition in other markets and with Iris's experience in the category they have been the perfect partner to help bring this to life in the UK."
The hero film launches on Boxing Day and is supported by 20 second and 6 second films, which will be placed on Facebook and YouTube as targeted, timely interventions to disrupt consumers' Domino's habit.
Source: Iris