Kellogg's iconic Coco Pops characters get a bombastic 2018 refresh in new pan-European spots by up-and-coming production studio Piranha Bar. Led by Digitas and Leo Burnett in London, the new spots envisage a bolder and richer take on Coco the Monkey and his arch nemesis Croc, the dastardly crocodile.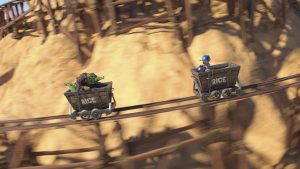 The flagship commercial depicts a swash buckling, nail-biting chase up a ginormous volcanic peak, with some impressive stunt work from Coco, as he surfs through a stream of Krispies and parachutes out of danger.
Explaining the re-design Co-director Gavin Kelly comments: "The goal of the production was to create a bigger action feel overall while introducing a more nimble and skilled Coco showing off and pulling some awesome stunts. We wanted to make the final film feel more frenetic and exciting than the legacy Coco Pop spots by giving them a cinematic action flair and Indiana Jones style spectacle. The sets and characters also benefit from greater detail and richness, ensuring that the animation feels premium and up to date for an increasingly discerning animation audience."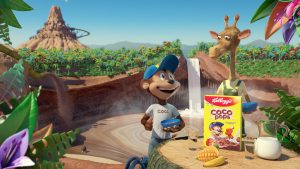 The rich world building and character work by Piranha Bar will be seen in subsequent spots, including the recently released Panini World Cup promotion which sees Coco and his soccer playing friends battling it out in a spectacular jungle ruin setting.
Co-director Richard Chaney adds: "Crafting the new Coco Pops world has enabled us and the team at Piranha Bar to open up new possibilities for the characters as they graduate from playful icons to cinematic action heroes."
Co-director Gavin Kelly continues: "It was a dream come true for us to be handed the keys to such an iconic brand and character world. We had a blast updating Coco and dialling up the excitement factor for this epic spot."
Source: Piranha Bar