Richmond, the number one sausage brand from Kerry Foods, is returning to TV screens this summer in a heart-warming new campaign to celebrate its status as the UK's favourite sausage.
Created by Saatchi & Saatchi, the new advert puts a local hero at the heart of its story to demonstrate what it is like to be the 'nation's favourite'. The new campaign is being unveiled in line with the re-launch of the iconic brand, which includes a packaging re-design to modernise and enhance its quality credentials to shoppers.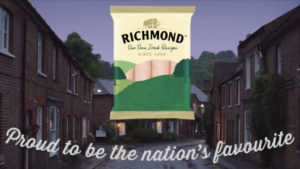 The tongue-in-cheek advert centres on Jim – a humble factory worker – as he finishes his shift and begins his journey home. We follow Jim through the streets of his small town, where he unexpectedly finds himself at the centre of an adoring crowd celebrating him as though he is a local celebrity.
"We see crowds of hysterical fans charging towards him like he's one of the Beatles in the height of 'Beatle-Mania'. He gets knighted by the Queen, and even gets his own statue in the town square," explains Dawn Spencer, Marketing Manager for Richmond.
"The moments get more outrageous as the story goes on but Jim modestly accepts the admiration throughout, whilst remaining focused on what is most important to him – getting home to enjoy a meal with his family. It perfectly encapsulates the Richmond brand values. We're proud to be the nation's favourite, but do not necessarily expect to receive accolades. We're just very happy that our consumers love the sausages we make."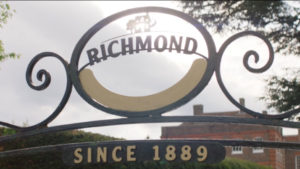 "Richmond sausages have been loved by families for more than a century when the brand launched with its original Irish recipe. Since then, Richmond has proudly become the nation's favourite sausage brand, selling 2.3 packs every second. We wanted to illustrate and celebrate the love that shoppers have for this family favourite, and our humble hero Jim characterises this perfectly throughout his journey home," continues Spencer.
Appearing from the 3rd July, the advert will air as part of a heavyweight campaign for the brand, which includes radio, sampling, digital and in-store activity.
Source: Saatchi & Saatchi