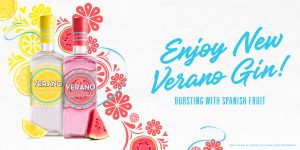 Scottish spirits company, William Grant & Sons, has launched a marketing push to promote its new fruit-flavoured gin, Verano.
The campaign positions Verano as a premium yet accessible gin that introduces vibrancy, informality and sociability to the drinking experience. It also highlights the brand's notable Spanish influence and flavour variations, namely Spanish lemon and Spanish watermelon.
Developed by creative agency Space, the multi-channel campaign will launch across DOOH, social and POS.
The campaign imagery showcases the product's up-beat personality and fun-loving energy, and the social activity will inspire people to try new Verano Watermelon and share with friends by living colourfully through energetic and playful watermelon animations.
Kayleigh Johnson, Verano Distiller at William Grant & Sons, said: "We're on a mission to transform the gin category by appealing to people who are either gin dabblers or who have never tried the spirit before. The idea of having a gin and tonic is so rigid, but we're actively breaking this mould by making Verano perfect for sharing across any occasion with any mixer."
Jason Nicholas, managing partner at Space, adds: "Our chief objective was to create a visually impactful launch campaign that supported Verano's position as a colourful and accessible gin. We believe this work will cut through a crowded market of gin brands and position Verano as a gin that breaks away from category conventions."
Source: Space