In a year that's been marked by discussion around gender roles and with headlines on 'toxic masculinity' – Heineken's Amstel beer sees a return to the more traditional values around men and male friendship. Exploring what it means to 'Hold my Beer' – Amsterdam based 180 Kingsday presents a poignant new campaign for Amstel Russia.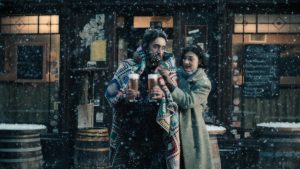 It's not a well known fact, but Amstel beer was born in 1870 by the friendship of two Dutch men, Mr De Pesters and Mr Van Marwijk Kooy – who wanted to share a better quality of beer together. Owing to their real friendship – and their dedication to uncompromising quality – they created a revolution of sorts in the brewery industry.
They extended the time of brewing up to 20 days and added the important ingredient to the recipe – the time. The quality of Amstel is time-proved as well as the true friendship. Today people enjoy Amstel beer in more than 100 countries including Russia.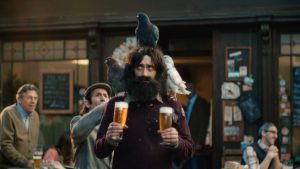 New TV commercial 'Hold my Beer', is set in a charming European village, where an incredible act of friendship is portrayed in a bittersweet and humorous film.
As two friends enjoy a beer, one asks the other to hold his glass while he goes to the bathroom. Unfortunately it appears that the bathroom he stepped into was on a boat heading out to sea. His friend stands waiting patiently – like a true friend should. Holding both their untouched beers. Day after day. Season after season.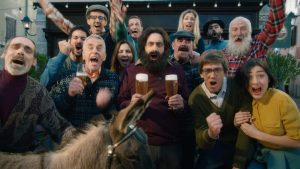 The villagers help him eat, read, watch football and stay awake while he does his best to not drink his Amstel – an almost impossible feat. Several months later his friend then reappears – utterly astounded that his best friend is still standing – holding his untouched Amstel. A true act of serious friendship, for a seriously good beer.
Kalle Hellzen – ECD at 180 Kingsday said: "The simplest ideas are often the most engaging – and 'Hold my Beer' is one of those. We're really proud on how this latest iteration of our 'Serious About Beer and Friendship' platform continues to build a distinctive and premium charm, humour and relevance to the brand. And on top of it all, it was a pleasure to work with the team in Moscow on this campaign."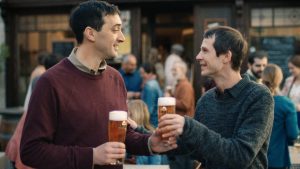 The campaign was shot by acclaimed director Justin Reardon, of Budweiser Whasssup fame, and the spot captures the essence of Amstel's premium heritage in a way that is both funny and touching. The film is filled with great scenes and humour – brought to life by a fantastic cast.
'Hold my Beer' is the second film in 180 Kingsday's 'Serious About Beer and Friendship Since 1870' communication platform. Last year's 'Pass it On' established the brand's premium position in Russia.
Source: 180 Kingsday