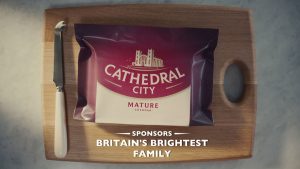 Cathedral City, one of the UK's favourite cheese brand, returns to TV screens this January, sponsoring brand-new ITV family quiz show Britain's Brightest Family.
The sponsorship, arranged through media agency UM, launches on 10th January and is supporting episodes of ITV's new family-focused knock-out quiz hosted by The Chase Governess, Anne Hegerty. It marks Cathedral City parent company Dairy Crest's first TV programme sponsorship deal since 2010.
Britain's Brightest Family fills a prime-time slot between two episodes of Coronation Street in ITV's evening schedule.
Airing before, during and after each episode, the Cathedral City idents pose fun, quiz-style questions as we see various family members in a series of cheese eating scenarios – from gobbling down bubbling cheese, hot from the grill, to stealing the crispy bit from the corner of a lasagne.
A trusted advertising medium with strong cut-through, TV sponsorship is proven to drive positive brand perception and consideration.
Nigel Marchant, Cheese Marketing Controller at Dairy Crest, explains "We're really excited to announce a new partnership with ITV which will see Cathedral City back on mid-week prime time TV. Britain's Brightest Family is a fun celebration of family unity and we see this as a great complement to Cathedral City's brand positioning and personality. We look forward to showing the British television-viewing public what the Cathedral City brand stands for and are confident that viewers will engage with our tongue in cheek idents, helping to further embed Cathedral City in consumers' hearts and minds."
Phil Cresswell, Activation Director at UM, adds: "We are delighted to have secured this opportunity for our client Dairy Crest, and its brand Cathedral City. In a ferociously competitive sector, delivering prime time ITV activity and audience provides incredible value across all parts of Dairy Crest's key business elements. Being as nimble and quick to respond to opportunity as Dairy Crest allows UM to drive maximum return."
Source: UM