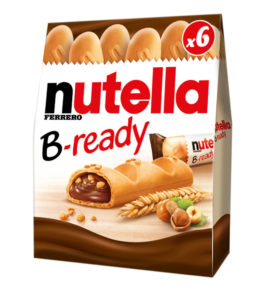 Nutella, worth £50.8m and growing at +55.8% in the past four years alone, is moving into the biscuits category for the first time in the UK, following a fantastic trial period and tremendous success in global markets.
Available now as a single serve or multipack of six, Nutella B-Ready features a light, crunchy wafer shell, creamy Nutella filling and puffed wheat crispies in an individually wrapped bar. The launch will be supported by a £2.8m multimedia campaign spanning TV, video-on-demand, out of home advertising, social and in-store media, kicking off from September.
A spokesperson from Ferrero UK comments: "Nutella B-ready is a complementary addition to the Ferrero range, offering shoppers more 'sweet snacking' solutions throughout the day. We see B-ready as the ideal mid-morning snack, containing fewer than 120 calories, while other products – like Kinder Bueno – are much more suited to post lunch snacking.
"Our initial UK trial has proved incredibly successful. We ranged at the till in a selection of convenience stores and Nutella B-ready ranked as the fourth best performing sweet snacking line during the period. We also found that merchandising the single serve product separately to the multipack drove incremental sales. We'd recommend that the single serve features alongside popular confectionery lines like Kinder Bueno and the multipack format within the biscuits aisle."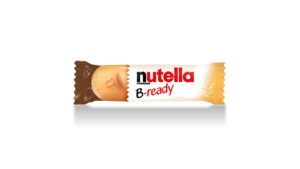 Nutella B-ready is already available in other markets and its international performance has led to a confident introduction in the UK. For example, it was named the best launch in FMCG since 2003, when it was launched in Italy in 2015. It also won Product of the Year in Italy in 2016 and is the number two SKU in the biscuits market.
A full suite of POS solutions will be made available for retailers to order from Ferrero's dedicated trade website.
Source: Ferrero UK