Universal McCann Malaysia (UM) has developed a first of its kind TV sync campaign for KFC, to launch the Golden Egg Crunch.
The campaign is a collaborative brainstorm effort between UM and Ensemble Worldwide, marrying storytelling and innovative media platforms to enhance the campaign message delivery, using TV sync technology.
Managing
Director of UM and Ensemble Worldwide, Amit Sutha said, "The way we watch TV has radically changed today. We know that 95% of people watch their mobile phones when commercials on TV are playing, so despite the consumer having their eyes on the screen, they're heavily distracted by multitasking. Advertising has never changed to reflect this change in consumption, until now."
The TV sync works across the comprehensive TV monitoring network, combining data from social media, TV viewership, and TV ad/program occurrence at scale. This then delivers over 20 creative and cheeky videos on mobile, each pegged to the most popular ads during the campaign period, to air across the social media network within seconds of the live TV commercial trigger.
"Second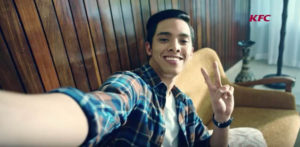 screening is the 'new normal ', with more than 42% of people using a second screen to fill a gap during ad breaks. With this campaign, consumers will find unique ad copies of the Golden Egg Crunch on their mobiles and social feeds, syncing with the ads played on TV," adds Amit.
KFC's Senior General Manager of Marketing, Angelina Villanueva said, "Media is incredibly segmented, and despite TV still being the number one media being consumed in Malaysia, it is getting increasingly harder to capture our audiences' attention. The UM and Ensemble team have once again come up with a smart and innovative way to boost our brand awareness, during a period that normally faces stiff competition."
Rina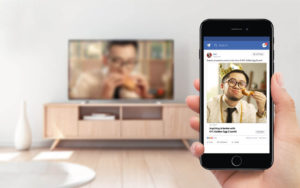 Low, Vice-President of UM commented, "Getting this campaign off the ground was certainly challenging, as it included getting the latest media schedules, and working within a short period of time to produce the relevant commercials. The TV sync and programmatic delivery tool was developed in-house by Cadreon; and we are really glad to see this KFC, UM and Ensemble collaboration at work again to produce another first within real-time storytelling based on new age media formats. This is the very essence of collaboration within IPG Mediabrands."
This innovative campaign comes after a highly successful awards season for UM and Ensemble Worldwide, which culminated in both agencies winning the Effective Use of Content Strategy Grand Prix at the 2017 WARC Awards.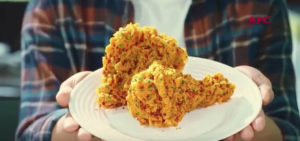 The winning campaign to launch the KFC Hot and Cheezy burger employed programmatic technology to create and distribute content to millennials. Cadreon is IPG Mediabrands' programmatic adtech unit which played a key role in both roll outs.
The KFC Golden Egg Crunch runs between the 5th and 28th of February. "No matter where you turn this month, you won't be able to turn from the feast of senses of the golden egg crunch," Low added.
Source: Lovely Mobile News