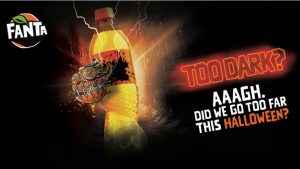 Fanta is looking to further establish its connection to Halloween with a new digital, social and out-of-home campaign from digital creative agency Movement.
Fanta will look to reach teens in order to build a lasting association between the brand and Halloween. The campaign will encourage engagement and co-creation with Fanta, while driving both awareness and purchase consideration of the newly-launched Fanta Dark Orange product range.
Running in key markets in Western Europe including Spain, France, Germany, Norway, Denmark, Netherlands and Sweden, the campaign taps into the sense of danger that the dark represents and how teens react to it. Using the tagline 'Too Dark?', the creative approach provokes the audience to answer whether Fanta has pushed this dark theme much too far this Halloween.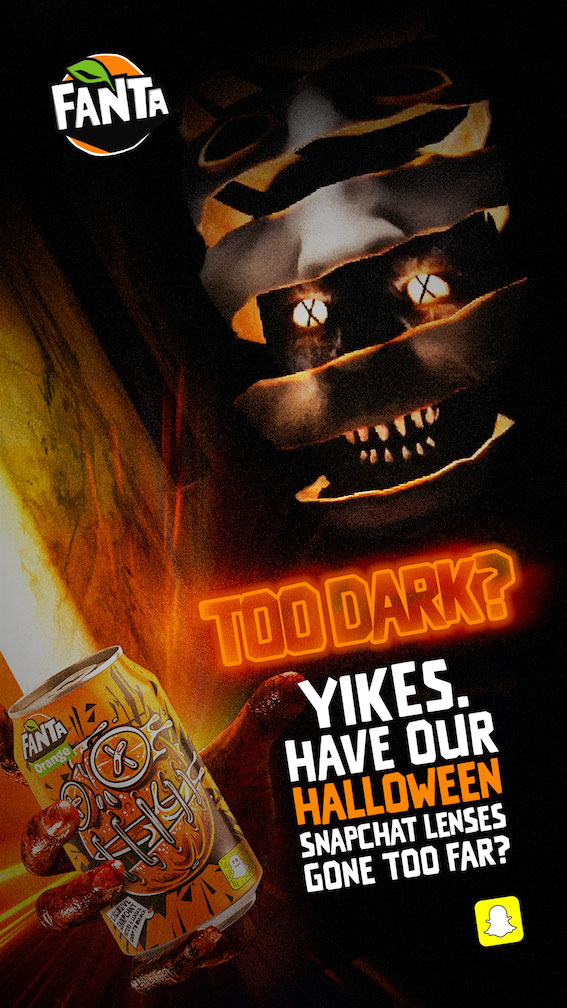 For the third year running, Fanta and London-based Movement will use Snapchat as the lead platform for the campaign, given its relevance to the target audience and its creative potential.
Snapcodes placed on exclusive Fanta packs will unlock two face lenses, one world lens and the first ever marker tech lens ever unlocked from a product in the lead up to Halloween. On the day of Halloween itself, a new national lens will be released by Fanta. Snap adverts will also run on the platform to raise further awareness of the lenses.
Fanta will encourage people to co-create their own Halloween content on Snapchat by using its lenses and exploring if Fanta has gone 'Too Dark?' with these lens – each lens showcasing different, over-the-top horror effects. The brand will also release a series of Snapchat filters to be used on user generated content.
Further activity includes strategically placed OOH and DOOH adverts that feature the 'Too Dark?' messaging, Programmatic digital display banners, Instagram adverts and influencer activity, all of which will amplify the campaign to a wider audience.
The activation follows Fanta's 2018 Halloween campaign, which was one of Snapchat's most successful ever activations and significantly increased transactions for the brand.
Will Hossner, head of account management at Movement said: "Halloween is an increasingly popular occasion for teens and the perfect opportunity for Fanta to engage with its target audience. This campaign taps into the fact that teens are drawn to the dark and to experiencing the unexpected, particularly during Halloween. This is the third year we've run a Snapchat-led campaign for Fanta and we've found it's the perfect place to reach teens and encourage some creative collaboration."
Source: Movement